By Howard Hayden
February 11, 2012, JunkScience.com
I thought I had them dead-to-rights.
The IPCC tells us that the temperature rise of the earth is supposed to be directly proportional to a certain function of the CO2 concentration. The temperature data had been easily available, and so had the CO2 data, both from NASA-GISS. All I had to do was to make that plot—an actual cause-effect graph—and I'd have a bullet-proof case, with an IPCC-sanctioned formula, and NASA-GISS data.
Anybody who disagreed would have to quarrel with either the IPCC or NASA-GISS.
Well, the graph, with about 130 years' worth of data, showed that a doubling of CO2 concentration would be associated with a 2 ºC temperature rise.
NASA-GISS did not quarrel with the graph. They ignored it.
All they did was change the temperature data.
NASA-GISS reported different historical temperatures in 2012 than they did in 2009. For example, the earth's temperature anomaly in 1891 was given in the 2009 data as –0.28 ºC but at -0.51 ºC in the 2012 data set. But for 2007, the 2009 NASA-GISS temperature was 0.56 ºC, whereas the 2012 data set called it 0.79 ºC. Systematically, earlier temperatures were lowered and more recent ones were raised so as to increase the apparent temperature trend.
The graph below shows historical data sets from the NASA-GISS website as published in 2009 and in 2012. The manipulation is obvious. The larger temperature trend is more to the liking of the climate alarmists.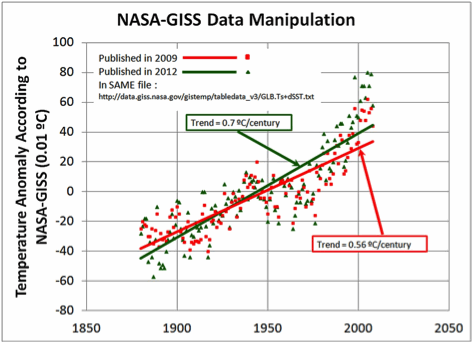 It's not as if NASA-GISS erased the temperature records in all of the newspapers and the log books of meteorologists; they simply changed their way of calculating the average. They had no scientific criterion for the change, because there is no way to stuff a thermometer under the tongue of the earth and get a "right" answer. But they could have compared their musings with satellite temperature data that cover the earth entirely and uniformly.
The graph below shows exactly the comparison required. Sure enough, the NASA-GISS guesstimated "temperatures" are rising faster than the real temperature.
The capricious data manipulation and the failure to compare with honest data ought to have NASA-GISS dead to rights.
Oh, I forgot. They can create their own reality.