Does Joe Romm know that the next 80 ppm of atmospheric CO2 will have less effect on the atmosphere than the previous 80 ppm?
Read "Doubling Of CO2 Levels In End-Triassic Extinction Killed Off Three Quarters Of Land And Sea Species."
Well, how much does carbon dioxide heat the Earth?

Oh my, we were afraid you were going to ask that. Because so many of the atmospheric processes are still being sorted out and quantified this is a non-trivial task. But alright, here goes.
What we can do is plot some of the more common estimates — note that these are something of a curve-fitting exercise on our part because we don't have the full papers and workings at hand. Stay with us while we run through a couple of rough sketch graphs, following which we'll try a different approach to see if we can't narrow the possibilities.
We'll offer three of the more commonly used and/or discussed estimates for the amount of cooling Earth would experience for a hypothetical zero-CO2, cloud-free atmosphere
Lindzen (5.3 °C clear sky, 3.53 °C with 40% cloud);
Charnock & Shine (12 °C clear sky), C&S are the big number guys in the estimation game (both these from Physics Today, 1995); and
Kondratjew & Moskalenko (7.2 °C, commonly cited but we are not sure why, perhaps because Houghton used their estimate in his book, 'The Global Climate', 1984).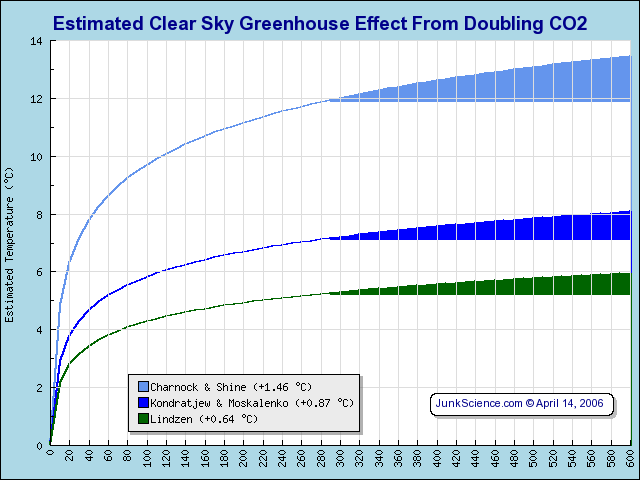 Here these estimates are simply scripted up to produce the following graphs and the numbers are imprecise, merely adequate to give everyone a reasonable look at how carbon dioxide fits into the picture.
Note also that there is still dispute over whether water would (does) act as a positive or negative "feedback" (multiplier effect) since water vapor and droplets (clouds) affect both incoming Solar radiation and outgoing Earth radiation.
Our simple script is logarithmic (remember our example of adding more shades over a window) but does not allow for complete saturation of radiative wavelengths, likely increases in evapo-transpirative cooling, increases in albedo (bright clouds reflecting more incoming solar radiation) nor any variation by latitude and so will progressively overestimate potential warming from CO2 alone. No matter, it does quite well enough to demonstrate the principle.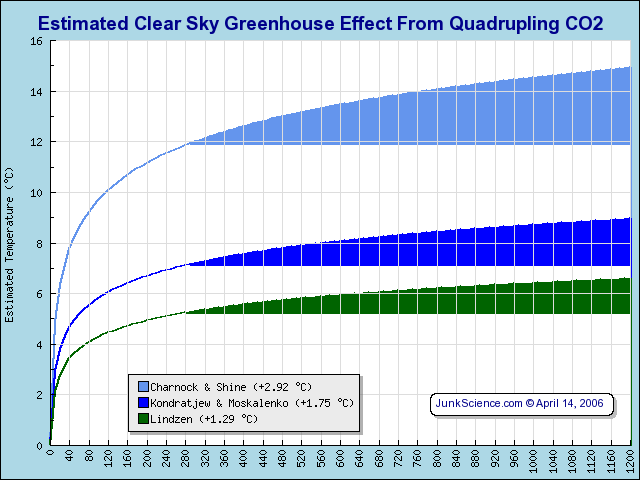 You can see how much this little script has overshot the mark since Lindzen states explicitly that a doubling from 300ppmv to 600ppmv of atmospheric carbon dioxide would result in only 0.5 °C warming. Rather obviously, Lindzen's calculations do not suggest a particularly large greenhouse influence on post-Industrial Revolution temperatures and, significantly, this does not include clouds, so CO2 would really only be a fraction of the total effect shown (Lindzen states 0.22 °C if calculated with 40% cloud cover).
Despite our over-estimation of the numbers on the graph it should be apparent there is only moderate warming potential from carbon dioxide emissions. These have all been plotted simultaneously so you can see the range of estimates for incremental change in temperature driven by greenhouse gases and below we show for a quadrupling of CO2-equivalent greenhouse gas relative to pre-Industrial Revolution levels.
Since some people are not familiar with logarithmic effect, we'll just point out a few features from the above graphs. Note the diminishing effect in all cases — the first half of pre-IR greenhouse-driven temperature increment in each estimate is achieved by less than 20 parts per million carbon dioxide (20ppmv CO2), it then took adding thirteen times as much again to repeat the performance (to 280ppmv). The estimated temperature increment range for a doubling of pre-IR CO2 (graphed as 300ppmv to 600ppmv) is just +0.6 °C to +1.5 °C and for a quadrupling (to 1200ppmv) +1.3 °C to +2.9 °C.