We can now say that government-sponsored air pollution experiments have killed more people than any recent air pollution.
In April 1996, a 19-year old University of Rochester student died while earning $150 as a guinea pig in an air pollution experiment. She was apparently overdosed with lidocaine during a bronchoscopy. The research was funded by the U.S. National Institute of Environmental Health Science (NIEHS).
The University of Rochester has apparently gotten over the death of Haiyan "Nicole" Wan and has moved on to testing concentrated air pollution particles on diabetics via funding from the U.S. Environmental Protection Agency.
Occurring through at least September 30, 2012, the purpose of the experiments on diabetics was described as follows:
These studies will use controlled human clinical exposures to test the hypothesis that inhalation of ambient ultrafine and fine PM causes measurable changes in coagulation and cardiovascular function, that these effects are determined by PM-associated reactive oxygen species, and that subjects with Type II diabetes are at increased risk for these effects.
The University of Rochester received $8 million for the recent "research."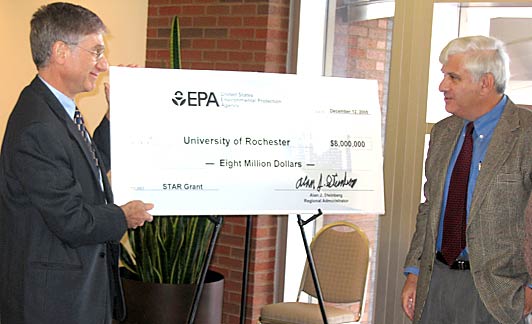 Show us the bodies, EPA — and your wayward air pollution experiments don't count.