A new study published in the Proceedings of the National Academy of Sciences claims that increased summertime temperature variability (presumably from the much-dreaded climate change) will increase the death rate of elderly people with chronic disease by three to four percent (3-4%).
This study is, of course, an exercise in statistics that is devoid of any relationship to the real world of morbidity and mortality.
What the study authors apparently want to be able to show is that global warming will cause warmer summers and increased death rates. But the best they can produce, apparently, is that elderly people with certain illnesses (heart disease, respiratory problems and diabetes) will have marginally higher death rates the more variable summer temperatures are.
Interestingly, they aren't claiming that an increase in mean summertime temperature will kill people, but only an increase in the variability of summertime temps. Although they want you to think warmer temps only, in fact, a larger standard deviation necessarily means more cooler temps and a lower mean summertime temperature.
But why anyone would attempt this con is beyond us. Consider this image form the PNAS study, which shows generally increasing temperature variability the further south you go:
So if the supposition were true that increased summertime temperature variability generally increased mortality rates then we'd expect to find mortality rates increase the further south you go.
But consider this image of state-by-state mortality rates: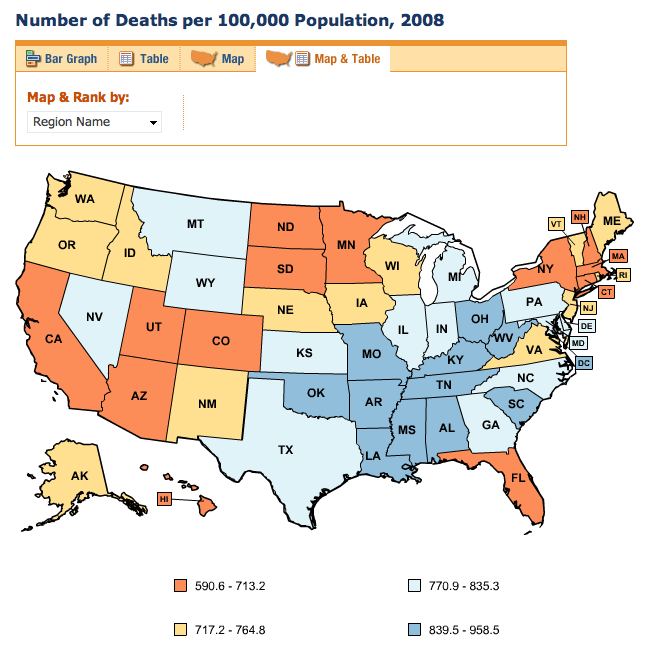 The expected pattern doesn't exist and is, in fact, most clearly debunked by Florida, Montana and Wyoming.