Minnesota has a "cap-and-trade conundrum."
The Minneapolis Star-Tribune reports,
Smoke wafting from Xcel Energy's largest coal-burning power plant in Becker, Minn., has been known to cause haze 200 miles away over the Voyageurs National Park and Boundary Waters Canoe areas.

And some visibility problems in northern Minnesota's natural areas also have be traced to the coal-fired Big Stone power plant, which is 300 miles away, just over the South Dakota border.

Yet a long-awaited government effort to reduce haze under the federal Clean Air Act is posing a regulatory contradiction along the South Dakota border.

The South Dakota plant, operated by Otter Tail Power Co. of Fergus Falls, Minn., is being required to install $489 million in "best-available" air pollution controls. Meanwhile, Xcel's larger Sherco power plant, which is 100 miles closer to Voyageurs and the BWCA, could avoid expensive retrofits entirely…
Possibly power plants may contribute somewhat to whatever hazy days, but it's actually probably more of a meteorological issue.
Below are photos of the Voyageurs National Park: On a clear day…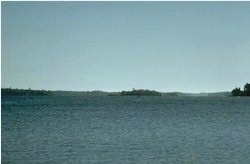 and on a hazy day…
Voyageurs may have 80 hazy days per year, where visibility drops from 133 miles to "only" about 33 miles.
So here's the poll: