Why let the Obama EPA's own science get in the way of the most expensive EPA rule of all time?
JunkScience.com has obtained via the Freedom of Information Act the results of an Obama EPA-conducted human experiment that directly contradicts the Obama EPA's 2015 decision to tighten the air quality standard for ozone from 75 parts per billion (ppb) to 70 ppb.
The Obama EPA-conducted experiment, called TROPICOZ, was started in September 2011 and all the data had been collected by March 2014 — well in advance of the October 2015 ozone rule.
In the TROPICOZ experiment, study subjects (aged 18 to 55) were made to exercise (ride a bike) in hot conditions (89-93F) while inhaling air containing an exceedingly high 300 ppb ozone for two hours — an ozone level four times the then-current standard and one that does not occur anywhere in the United States. The study subjects also exercised under the same conditions but in "clean" air.
No adverse effects from ozone were observed among the 16 subjects in the experiment. No clinical differences were reported between the two exposures (i.e., air with 300 ppb ozone vs. "clean" air). The EPA-constructed table of results is below: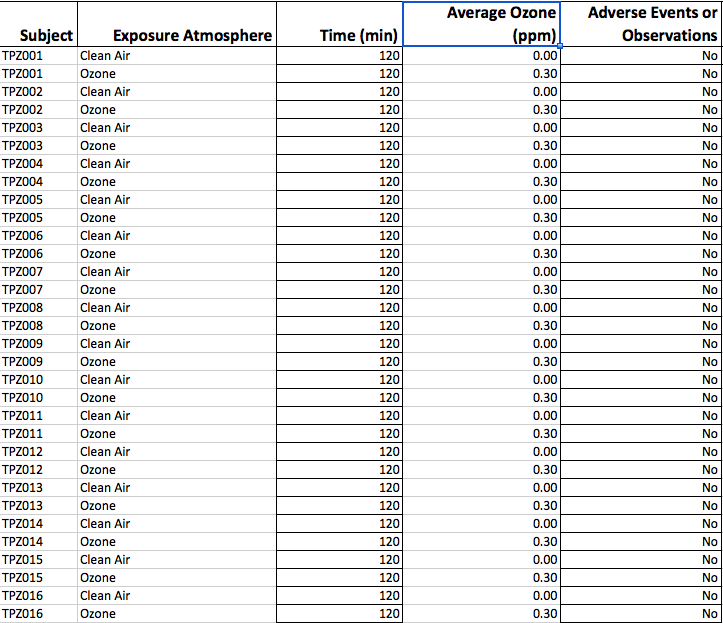 The results were never made public. They were never provided to ClinicalTrials.gov (see below image) even though the web site was updated well after the study results were available (March 2014) and the ozone rule was issued (October 2015).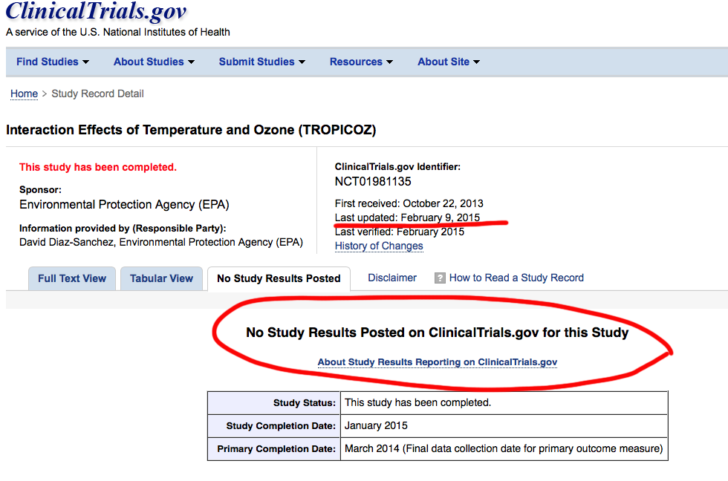 There was also no reported publication of the results (image, below, from ClinicalTrials.gov).

A search of the PubMed data base also returned no publications.
Last week, 300 industry groups asked Trump EPA to revisit the Obama EPA's 2015 ozone standard.
In a court of law, ozone would be given a mistrial. The Trump EPA should revoke the Obama ozone rule and start over.