I have always found advocates of climate bedwetting to be slippery. See what you think.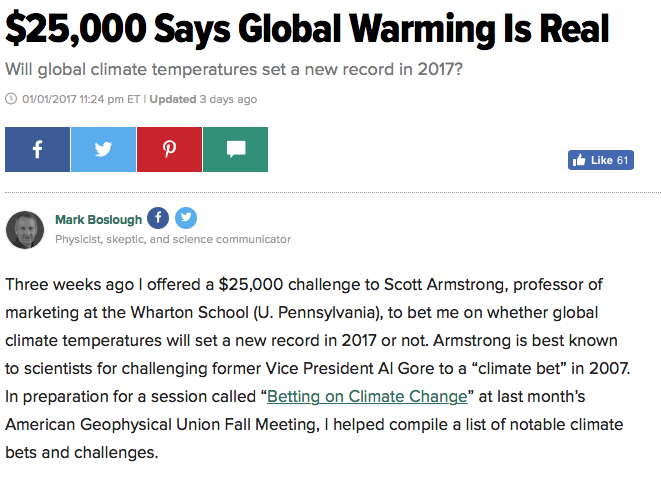 You can read Mark Boslough's entire column, excerpted above, here.
It concludes with this dig at Wharton prof Scott Armstrong:

But Armstrong says:
Contrary to the impression one might get from reading Mark Boslough's news item, I did answer him — on December 12 (see, below) and he thanked me for doing so.

I am pleased to see that this exchange is doing more to promote interest in assessing predictive validity.

As for the criteria, that is indeed a good question and it will be interesting to see Boslough's analysis of the outcome of the winner of the bet at the end of this year. The paper that I referred him to was "Forecasting Global Climate Change" by Kesten Green and me, published in "Climate Change: The Facts."

I appreciate Boslough's admiration of my persuasive skills. After all, I did write a book that summarized a century of experimental research on persuasion.

__________________________________________________________

Hi Mark,

You are missing the point of the bet. The purpose was to stimulate an interest among the global warming advocates to test predictive validity against other reasonable hypotheses about long-term temperature changes. Ten-years is much too short a period. Our simulations prior to the Gore bet were that I would have a 1/3 chance of losing the bet due to natural variability. As you can see from this paper we compare three reasonable hypotheses using data back to AD116.

We use the UAH satellite data, for the reasons we describe on theclimatebet.com.

Surely everyone realizes that climate is always changing, so an examination of one year is of no significance.

There were many times in the past that will far exceed whatever will happen in 2017, so your bet will not be the highest in history unless you exclude data. Look at the long-term series that go back centuries and those that go back thousands of years.

Scott Armstrong
The Wharton School, University of Pennsylvania
We report. you decide.
###
And hey, buy my book. Read. Learn. Be smart. Click the image, below.