But it could be all about how the temp data is sliced.
The USDA says:
The new version of the map includes 13 zones, with the addition for the first time of zones 12 (50-60 degrees Fahrenheit) and 13 (60-70 degrees Fahrenheit). Each zone is a 10-degree Fahrenheit band, further divided into 5-degree Fahrenheit zones "A" and "B."

To help develop the new map, USDA and OSU requested that horticultural and climatic experts review the zones in their geographic area, and trial versions of the new map were revised based on their expert input.

Compared to the 1990 version, zone boundaries in this edition of the map have shifted in many areas. The new map is generally one 5-degree Fahrenheit half-zone warmer than the previous map throughout much of the United States. This is mostly a result of using temperature data from a longer and more recent time period; the new map uses data measured at weather stations during the 30-year period 1976-2005. In contrast, the 1990 map was based on temperature data from only a 13-year period of 1974-1986.
Below is the new (2012) map.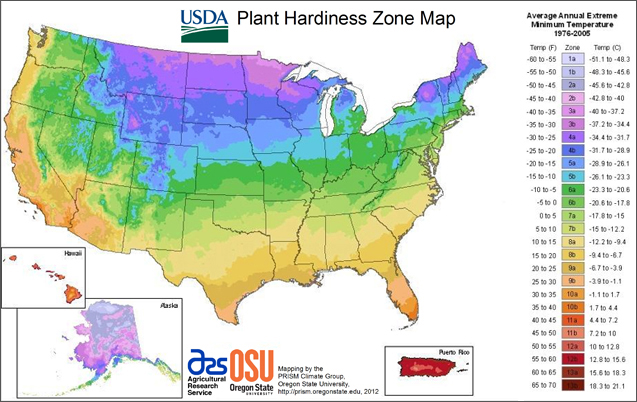 Here's the old (1990) map.