Lead hysteria was borne out of "science" that the University of Pittsburgh found was "difficult to explain as honest error." Nothing has changed.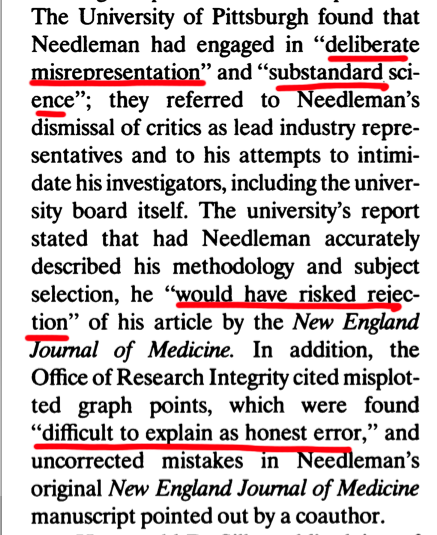 Here's a 2001 FOXNews.com of mine on the junk science origins of lead hysteria.
This study is just more in the same vein of junk science. A weak association epidemiology effort to blame a supposed slightly lower population IQ on lead vs the actual and far more probable causes — poverty, poor education and other developmental factors.
More on the Needleman controversy in the American Journal of Public Health.
The media release is below. The study is here.
Childhood lead exposure associated with lower IQ, socioeconomic status nearly 3 decades later
THE JAMA NETWORK JOURNALS
Children who had higher blood lead levels at age 11 were more likely to have lower cognitive function, IQ and socioeconomic status when they were adults at age 38, according to a study published by JAMA.
Exposure to lead in childhood may adversely affect brain health and disrupt cognitive development. It is unknown if this disruption results in cognitive decline and altered socioeconomic trajectories by midlife. Aaron Reuben, M.E.M., of Duke University, Durham, N.C., and colleagues conducted a study that included participants of the Dunedin Multidisciplinary Health and Development Study, an investigation of health and behavior of individuals born between April 1972 and March 1973 in Dunedin, New Zealand. Childhood lead exposure ascertained as blood lead levels were measured at age 11 years. High blood lead levels were observed among children from all socioeconomic status levels in this group.
Of 1,037 original participants, 1,007 were alive at age 38 years, of whom 565 (56 percent) had been lead tested at age 11 years. Among the findings:
Childhood blood lead level was associated with lower adult IQ scores nearly three decades later, reflecting cognitive decline following childhood lead exposure.
Childhood blood lead level was associated with lower adult socioeconomic status, reflecting downward social mobility following childhood lead exposure.
The relationship between childhood lead exposure and downward social mobility by midlife was partially but significantly mediated by cognitive decline following childhood lead exposure.
"The results indicate that childhood exposures to lead can be linked with cognitive and socioeconomic outcomes detectable more than 3 decades later," the authors write.
"For communities that have experienced collective lead exposure events and for countries where lead exposures are still routinely above health standards, the findings raise questions about the reasonable duration and magnitude of public responses. Just as the problem of toxic lead exposure in homes appears to persist, so too do the poor outcomes associated with such exposure. Short-lived public responses to community lead exposure may not be enough."
###