Note to readers: JunkScience Sidebar has moved to a daily News & Views page available here. 
Rep. Stivers isn't killing babies – In a new ad campaign, Environment Ohio accuses Republican Congressman Steve Stivers of voting to kill babies. In addition to being over the top, the ad spotlights an increasingly unhinged and politicized environmental movement. (Steve Milloy, Daily Caller)
BPA Is Still OK – Pregnant women, beware … – …According to the media, anyway. This week, article after article warned pregnant women to avoid bisphenol-A (or BPA), a substance found in plastic bottles and canned foods that is used to harden plastic and prevent the spread of food-borne bacteria. The reason is a new study that purports to show that BPA exposure to fetuses in the womb can cause behavioral problems in toddler-age girls. (Henry Miller, Forbes)
Local, organic foods not always safer – Shoppers nervous about foodborne illnesses may turn to foods produced at smaller farms or labeled "local,""organic" or "natural" in the hopes that such products are safer. But a small outbreak of salmonella in organic eggs from Minnesota shows that no food is immune to contamination.
While sales for food produced on smaller operations have exploded, partially fueled by a consumer backlash to food produced by larger companies, a new set of food safety challenges has emerged. And small farm operations have been exempted from food safety laws as conservatives, farmers and food-lovers have worried about too much government intervention and regulators have struggled with tight budgets. (Associated Press)
Actually there is no rational reason to believe small farm, "local", "organic" or "natural" produce is ever "safer" (or as safe, for that matter) but, as always, caveat emptor.
Green capitalists hijack carbon agenda and we will end up paying – THERE was a time when capitalists were capitalists. Now, half the bastards parade as greens making money from green ideology. The other half have given up in the face of environmentalism.
The combination of corporate rent-seeking and capitulation makes the world more vulnerable to mishap. No wonder the gormless ferals "Occupying" city squares across the Western world are confused.
Green capitalism wants public corporations to behave not as shareholders and taxpayers wish but as green activists wish. Green activists and corporate people cosy up to regulators and governments, but especially the UN.
Corporations accept the activity as strategic, coping with political pressure for the nebulous desire for sustainability. Some corporations acquiesce, some make money.
There are crooks such as Enron and jokers such as BP (remember Beyond Petroleum?) who play the game. Others just attend conferences. But attending lends weight to stupidity and rent-seeking on a global scale. (Gary Johns, The Australian)
Really high on the list of stupid things to do: Air capture technology ready by 2018: UK engineers – Geo-engineering technology to absorb climate-warming carbon dioxide emissions from the atmosphere can be rolled out by 2018, the UK's Institution of Mechanical Engineers (IME) said. (Reuters)
What maniac would seriously attempt to limit, much less reduce, available atmospheric carbon dioxide at a time when we estimate 7 billion people on the planet already and a realistic likelihood of reaching 9 billion sometime this century? Atmospheric carbon dioxide is a priceless resource and attempts to constrain its abundance too stupid for words.
Climate change making country's water problems worse: expert – Climate change and population growth in the United States will make having enough fresh water more challenging in the coming years, an expert on water shortages said on Wednesday. (Reuters)
Or not, considering the cyclical nature of regional precipitation.
The Death Of Global Warming Skepticism, Or The Birth Of Straw Men? – The mainstream media has been spiking the football in the proverbial end zone ever since a paper released last Friday claimed two-thirds of global temperature stations show some warming occurred during the past century. The media have been claiming the new paper delivers a death blow to skepticism, but the paper itself brings almost nothing new to the global warming debate and instead shows how far global warming advocates are from presenting credible evidence of a crisis. Rather than delivering a death blow to skepticism, the media has merely invented and shredded an insignificant straw man. (James Taylor, Forbes)
Cardinal questions the price of climate action – CATHOLIC Archbishop of Sydney George Pell has questioned the morality and cost benefits of imposing heavy financial burdens in the cause of curbing climate change.
Last night Cardinal Pell presented the annual lecture to London's controversial Global Warming Policy Foundation, chaired by former British chancellor Nigel Lawson. (The Australian)
Be prudent with climate claims – SCIENCE and technology have already achieved considerable mastery over nature, and massive local achievements. But where is the borderline separating us from what is beyond human power?
Where does scientific striving become uneconomic, immoral or ineffectual and so lapse into hubris? Have scientists been co-opted on to a bigger, better-advertised and more expensive bandwagon than the millennium bug fiasco?
We can only attempt to identify the causes of climate change through science and these causes need to be clearly established after full debates, validated comprehensively, before expensive remedies are imposed on industries and communities.
I first became interested in the question in the 1990s when studying the anti-human claims of the "deep greens". Mine is not an appeal to the authority of any religious truth in the face of contrary scientific evidence. Neither is it even remotely tinged by a postmodernist hostility to rationality.
My appeal is to reason and evidence, and in my view the evidence is insufficient to achieve practical certainty on many of these scientific issues. (Cardinal George Pell, The Australian)
Did the melting Arctic ice shelf break up once before? – Researchers think one Canadian ice shelf broke up 1,400 years ago and then re-froze
Images of the Arctic ice shelf cracking up are an icon of the damage wrought by global warming.
But a team of researchers from the Universite Laval in Canada have found evidence that one ice shelf might have broken up before, 1,400 years ago – long before industrialisation had any impact on the planet. (Daily Mail)
How generous the wackos are with other people's money: Climate aid would cost nation $2bn – AUSTRALIA should contribute between $1.9 billion and $2.7 billion a year by 2020 to meet international commitments to help poor countries cope with climate change, new analysis has found.
Researchers at the Australian National University will release a report today calculating Australia's share of a worldwide goal to deliver $100 billion of public and private financing a year by 2020 to help developing nations with the impacts of climate change. (Melbourne Age)
II: Tax more to fight climate change – report – AUSTRALIA has a carbon tax on the way, but it might want to consider another one – plus other measures – if it wants to help its less cashed-up neighbours battle climate change, a report suggests. (AAP)
Another bumper wheat harvest for Australia – In 2005 I asked Are Martians growing Australian wheat ?. Then a year ago I posted – Australian wheat crop history does not shout "worst drought ever"
The point of this article is to recycle this very direct chart from "The Australian" which highlights the fact that out of the last 11 years, three have produced poor crop levels but eight have produced very good crops.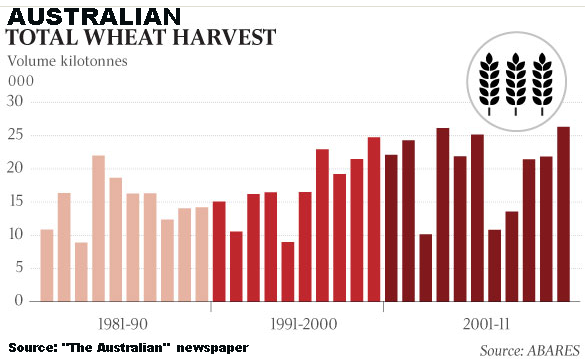 Thousands of knee jerk main stream media articles over the years claiming, worst drought ever, worst drought in 100 years, a decade of drought, ten years of drought, you have heard them all – are shown to be dubious. There has obviously been a lot of fairly average rain over the last 11 years to grow all this wheat. It is truly amazing that such a simple phenomena as rain is subject to so much main stream media mis-reporting and lies. (Warwick Hughes)
New York Times Tries To Catch up with the Energy News of the Last Decade – The New York Times has a special section on energy in its 26th October edition that suggests that the paper is trying to catch up with the big news of the last decade in the energy sector. The front page story by Clifford Krauss is headlined, "The Energy Picture, Redrawn." Inset photos are headlined DEEP WATER, HIGH ARCTIC, OIL SANDS, and SHALE, and the caption reads: "A CHANGED GAME New oil and gas fields are expected to yield a vast supply of fuels that should help relieve the United States of dependence on the Mideast and help drive booming economies in India and China."
Here's the conclusion of Krauss's long summary of recent history: "'The fossil fuel age will be extended for decades,' said Ivan Sandrea, president of the Energy Intelligence Group, a research publisher. 'Unconventional oil and gas are at the beginning of a technological cycle that can last 60 years. They are really in their infancy.'" (Myron Ebell, Cooler Heads)
Republicans call for probe of Obama's green car program – Republicans are calling on Congressional investigators to expand their probe of the Obama Administration's "green energy" loan program to include Fisker, the start-up electric car company that received more than $500 million in federal support but is assembling its high-end sports sedan in Finland. (iwatchnews)
Volt drains power from economy, Obama's 2012 campaign – The White House's green technology revolution is sitting in an auto lot in Butler, Pa., and nobody is buying.
"Nobody comes in to ask, nobody comes in to look … The American people are smarter than the government — they're not buying that car," said Republican Rep. Mike Kelly, who owns the auto lot where one of General Motors' combined electric-and-gasoline powered Volt autos sits unwanted, unsold and unused.
The Chevy Volt would cost its buyer almost $40,000 — even after a $7,500 federal check — and that's more than twice the price of a comparable Chevy Cruze, Kelly told The Daily Caller. "I just pay interest on it, insure it, and in another week or month, we'll scrape snow off it." (Daily Caller)
Renewables Hit a Wall in South America – SÃO PAULO, BRAZIL — Last year, to raise money for energy investments, Brazil carried out the largest share offering in the history of humanity. Petrobras, the state-controlled oil company, raised $70 billion to put towards projects to drill for its newly discovered, and potentially huge, deepwater offshore oil reserves.
This was not an encouraging day for those who had hoped that Brazil, the largest Latin American economy, would step up efforts to make the region's energy use more sustainable. (NYT)
Smart Grid Wiseup: Google and Microsoft Quietly Exit (energy efficiency vs. the hassle factor)
"I have never known much good done by those who affected to trade for the public good. It is an affectation, indeed, not very common among merchants, and very few words need to be employed in dissuading them from it."

– Adam Smith, The Wealth of Nations (1)
We all know that Google is incredibly future-oriented, and that, for all its problems, Microsoft, knows a lot about technology and markets. Why, then, did each shockthe 'smart grid' movement by announcing the phaseout of their home energy metering and control technologies (Microsoft's Hohm and Google's EnergyMeter)?
The deep meaning of this is less about technology than it is about politics. (Robert Michaels, MasterResource)